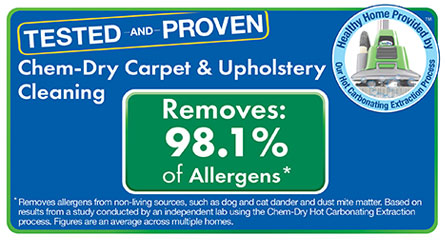 Professional Carpet Cleaning in Kyle & San Marcos
For the best carpet cleaning services in San Marcos, look no further than Robert's Chem-Dry. Our expert cleaning professionals deliver a deep, long-lasting, eco-friendly clean to homes and businesses in Kyle, Bluff Springs, and San Marcos. As a locally owned and operated company, we take pride in serving our neighbors. You can always count on us to go above and beyond for a job well done.
We've spent years transforming homes and earning the trust of our neighbors throughout the San Marcos area. You can count on our best-in-class technicians, innovative cleaning techniques, and green certified cleaning solution to provide cleaner carpets than ever. We've worked hard to grow our reputation as the best carpet cleaning and rug cleaning service in the San Marcos area. Robert's Chem-Dry is proud to give our customers an outstanding carpet and upholstery cleaning experience that leaves your home cleaner and healthier than ever before.
Thanks to our revolutionary cleaning method, Robert's Chem-Dry stands alone among carpet cleaners in San Marcos. By combining hot carbonating extraction, or HCE, with our proprietary cleaning solution, The Natural®, we harness the power of millions of carbonated bubbles to work deep into the fibers of your carpets and release set-in dirt, grime, and airborne allergens. We'll follow up with high-powered extraction equipment that remove all of the dirt and cleaning solution, leaving you with nothing but spotless carpets. Since The Natural® doesn't leave behind any sticky, dirt-attracting residue, your carpets will stay cleaner for longer. Even better, since HCE only uses a fraction of the water that traditional steam cleaners require, your carpets will dry much faster – sometimes in just 1-2 hours.
If you're looking to make your home more eco-friendly, Chem-Dry is a green choice that you can feel good about. Beyond using less water, we use a green-certified cleaner that has been recognized as safe by the FDA. The Natural® doesn't contain any soaps or harsh chemicals. Keeping your family safe is our top priority, and you can trust that we'll always use cleaning products and methods that are safe for your home.
Accidents are part of life with your beloved pets, but they don't need to be permanent. Pet accidents that aren't cleaned up promptly can sink into your carpets and its padding, growing more pungent over time. While other companies think that masking the odor with perfume is good enough, Robert's Chem-Dry destroys pet odors at the source. Our P.U.R.T. (Pet Urine Removal Treatment) breaks down concentrated urine crystals to eliminate pet odors for good. Ask about P.U.R.T. when you schedule your next cleaning!
Whether we're cleaning your home or a larger commercial property, Robert's Chem-Dry has the skills and training to give your property the deep, thorough carpet cleaning that it deserves. Our methods can be used to refresh your carpets, eliminate pet stains and pet odors, and improve indoor air quality. To us, protecting your carpets means protecting your health.
The Process
Chem-Dry provides a deeper, longer-lasting, healthier carpet cleaning experience. Typical steam cleaning services use an excessive amount of water, which results in a much longer dry time and can lead to mold and mildew growth at the base of your carpets. Our proprietary Hot Carbonating Extraction cleaning process uses about 80% less water than steam cleaners and gets better results. Using a Chem-Dry Green Certified carbonated cleaning solution that's heated to over 200 degrees, millions of tiny bubbles penetrate to the base of your carpets to lift dirt, grime, dust and other allergens to the surface. Then our powerful extraction equipment removes these unhealthy elements along with the most of the water. So your carpets are dry in 1-2 hours with Chem-Dry, compared to 1-2 days with most steam cleaners!
Your Home
We know you have a choice when it comes to carpet cleaners near your home. We promise to treat your home, your family and your pets with the courtesy and care you deserve. Our friendly, professionally-trained technicians understand that getting ready to have your carpets cleaned is a big deal, and they take pride in delivering superior, healthier results for your family and your home.
Tested and Proven Superior Results
Our Hot Carbonating Extraction (HCE) process was tested by a leading independent air quality laboratory in multiple homes. The lab found that Chem-Dry removes an average of 98.1% of common household allergens from carpets and upholstery. The common allergens tested were dog and cat dander and dust mite matter.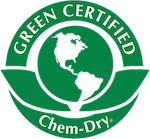 Chem-Dry's signature cleaning solution, The Natural®, is a cleaning mixture that, through the power of carbonation, lifts dirt and grime to the surface where it is whisked away. The Natural is Chem-Dry green-certified, safe and non-toxic so it's ideal for homes with kids and pets.
You can trust our deeper-cleaning, healthier carpet cleaning service to meet your needs and exceed your expectations. Chem-Dry is preferred by customers and professionals alike. The Carpet and Rug Institute (CRI) designated Chem-Dry as a company deserving of the CRI Seal of Approval for our innovative and unique hot carbonating system. This program identifies effective carpet cleaning solutions and equipment that clean carpet right the first time and protect a home or commercial facility's carpet investment. The blue and green CRI Seal of Approval is proof that you are investing in a proven, high quality service.
You have a lot of choices when it comes to carpet cleaning in San Marcos, Kyle and Bluff Springs, but Robert's Chem-Dry is second to none. Steam cleaners can't match our deep, green clean. Our tested and proven carpet cleaning process, fast dry times, and excellent customer service all set Robert's Chem-Dry apart as San Marcos's premier carpet cleaning company. Our passion for delivering cleaner, healthier homes to San Marcos homeowners has earned us many longtime clients, and we can't wait to count you among them. Give us a call or schedule an appointment online today to give your home the long-lasting carpet cleaning it deserves.
If you're looking for more than just carpet and floor cleaning, Robert's Chem-Dry also offers professional area rug cleaning, upholstery cleaning, wood floor cleaning and tile and grout cleaning. We hope to hear from you soon!